Alumni
Riley Casey,
Pitt Community College
Abby Langemann,
Pitt Community College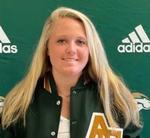 We are glad to welcome abby langemann to our coaching staff! Abby is a native of Ayden, NC where she has lived her whole life. She is a senior at Ayden grifton high school where she served as a marshall and was a member of the varsity volleyball team for 3 years. in 2019, she was part of the 2a state runner up team. this past season, she helped lead her team to a conference title and was voted player of the year for the conference. She also served on the ENC moments first team all conference as well as for the Daily reflector. She plans to attend pitt community college and play volleyball . Abby is also a member of our 18 nationals team and was a member of the original Top caliber 17u team last season. in her free time, she likes to spend time with her family.
Madison Powers,
Lenoir Community College
Lindsay Williams,
Pitt Community College